While we're all waiting for the five-door version of the Suzuki Jimny, the Japanese manufacturer has just launched a new special version on the market. Named after Sierra 4Sport, this limited edition becomes the most adventurous option in the entire range of this impressive and tiny off-roader.
But don't sing of victory, because to begin with this Suzuki Jimny Sierra 4Sport is limited to only 100 units. And these will be all the rage among lovers of this SUV in Brazil. Because they will be sold there exclusively.
A Suzuki Jimny designed exclusively for Brazil
To increase the off-road capability of this small vehicle, Suzuki boys outfit it with a snorkel. There is also a roof rack for carrying cargo, new mudguards that widen its bodywork, a black grille, metal side steps, recovery hooks… These have been painted blue, this which contrasts with the gray color they have chosen for the bodywork of this Jimny Sierra 4Sport. Different decals have also been affixed to its bodywork and the 15-inch rims arrive in black. These are fitted with Pirelli M/T tires in size 215/75 R15 focused on improving off-road traction..
If we jump inside these Suzuki Jimny Sierra 4Sport we will also find accents in blue. This tone is applied in the air vents, the gear lever and the upholstery of its seats, dressed in black leather.. These seats have stitching in the same blue color, which is also present on your steering wheel.
In Brazil, the Suzuki Jimny retains the four places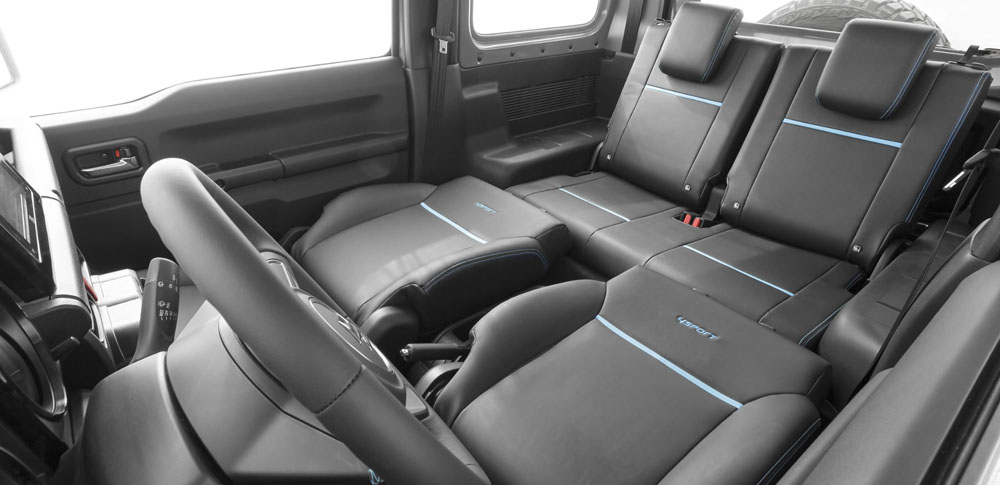 The main difference we found compared to those who are sold here and in other parts of the world is that in Brazil it is not considered an industrial vehicle. It is for this reason that it retains its original rear seats and four seats.. The front ones have the particularity of being able to tilt and become a bed.
The Suzuki Jimny is one of today's most adventurous off-roaders. And this Sierra 4Sport goes even further. Admittedly there are no upgrades to the frame rails or suspension. It only releases the aforementioned tires and snorkel, allowing it to increase its wading ability up to 600 millimeters.
Retains its gasoline engine, but more power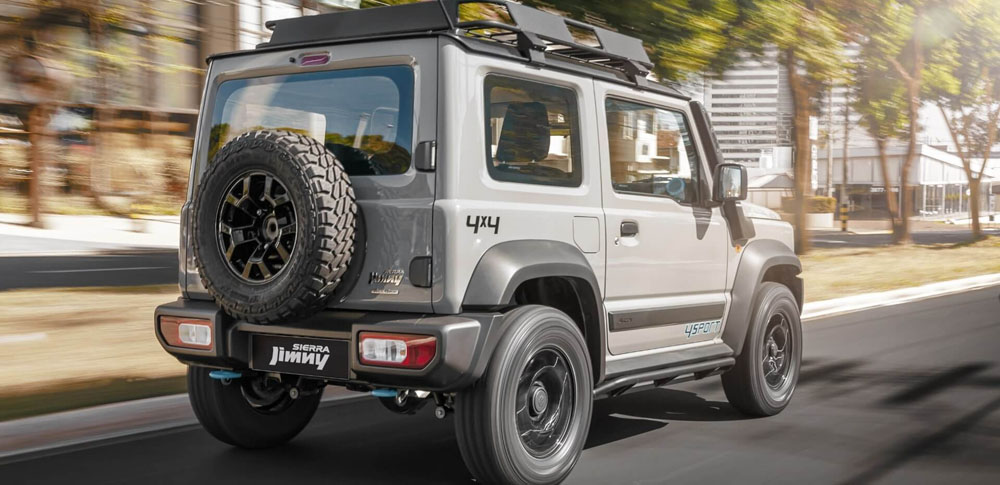 Under the hood, no surprises. The simple 1.5 atmospheric engine which delivers 108 hp and 138 Nm of torque is retained. Oddly enough, those numbers are a bit better than the Suzuki Jimny in other parts of the world, including Spain.. As you know, here this gasoline engine provides 102 hp and 130 Nm. Its AllGrip Pro all-wheel drive system is also maintained and it bets on a four-speed automatic transmission.
own Japanese company website their rates have been published, which are not within the reach of all budgets. Suzuki Jimny is quite an expensive "toy", but this special edition comes full circle to the point of costing 181,990 Brazilian reais. You can translate that to something like 34,440 euros at the current exchange rate. It is also 25,000 reais (4,730 euros) more than what a mechanically equal Suzuki Jimny costs, but without this Sierra 4Sport finish.