Almost futuristic bookcases, with reflections that create an incredible view and an architecture at the height of the best avant-garde constructions. Those are the amazing zhongshuge bookstores in china, designed by X+Living studio.
For all those who are passionate about books, here we show you what they look like inside. As you can now see through the images provided by Archellothey are authentic cathedrals full of books, with sinuously shaped columns and multiple sets of mirrors to make them appear larger than they already are.
Dujiangyan Zhongshuge
In the remote town of Dujiangyan, this unusual bookstore has been opened. Dujiangyan Zhongshuge recalls the best essence of Escher. A kind of cathedral with more than 80,000 books where reflections are constant.
With its 973 square meters, Dujiangyan Zhongshuge is one of the most beautiful bookstores in the world and a sight to behold. The book columns are tall, but thanks to the use of mirrors they appear to be much taller. A visual delight that you can see below.
ChongqingZhongshuge
ChongqingZhongshuge It is located between the third and fourth floors of the Zodi Plaza. It is a bookstore with rectangular lines and where the lighting and lamps play an important role. We are in front of a bookstore that invites you to read in quiet spaces.
The store has a cafeteria and a play area for children, with a colorful aesthetic and again a large mirror to recreate the reflections that the X-Living design team loves so much.
Chengdu Zhongshuge
In the Yintai center is the bookstore Chengdu Zhongshuge. A space with a more modern aesthetic that mimics nature. From a sea of ​​dunes to a bamboo forest, passing through a forest of large mushrooms in the children's book area.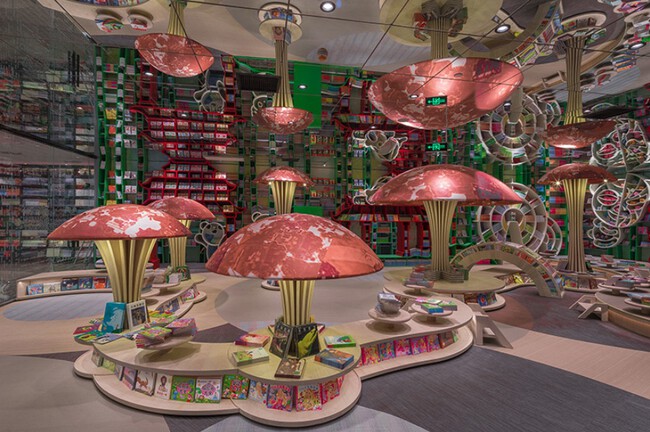 Shenzhen Zhongshuge
In the chinese technology capital it is found Shenzhen Zhongshugea bookstore where the great protagonist is a huge spiral staircase which is actually a library on the floor full of books. When customers enter the store, they can see through it, as if it were a time spiral.
Guiyang Zhongshuge
outside of Guiyang Zhongshuge it's a large stained glass window, but the interior is a library with an old-fashioned wooden aesthetic. The designers here have tried recreate a book cavewith mountains of books, columns that hang like stalactites and tunnels through which a river might pass but there are books and counters.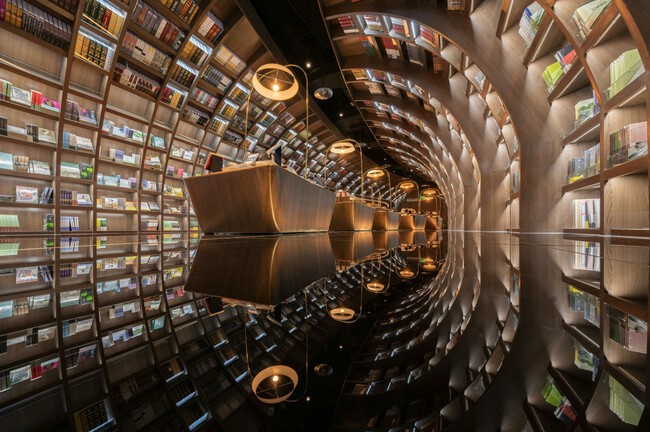 Beijing Zhongshuge
Within the famous Lafayette shopping centers is the Beijing Zhongshuge. We are facing a bookstore with open spaces, bright lighting and "gates of the Moon" that point the way. Like the Shenzhen store, this store features large circular arches to guide customers throughout the space.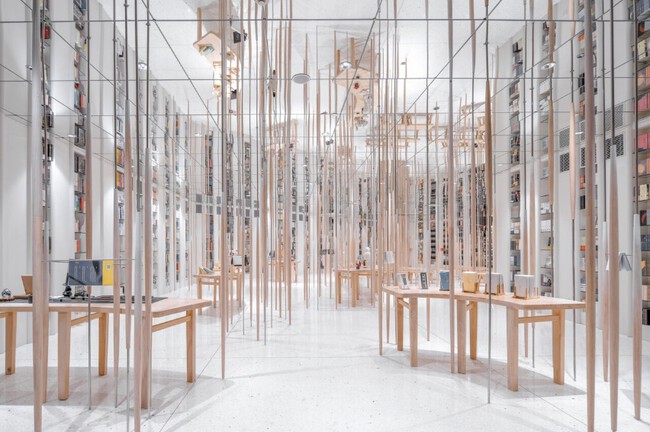 Minhang Zhongshuge
A store that is once again betting on dim lighting, dark walls and ubiquitous reflections to create stunning silhouettes. Minhang Zhongshuge promises to be "not only a bookstore but also a space for the soul". The idea of ​​these stores is not only to offer texts, but to become a sort of "sanctuary" where customers and readers "can be intoxicated by the beauty of the store".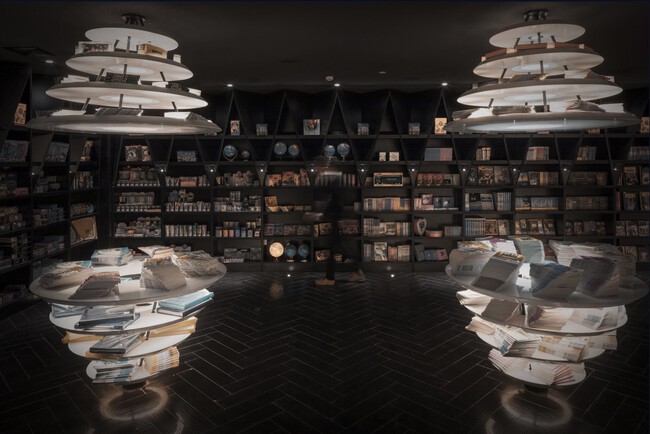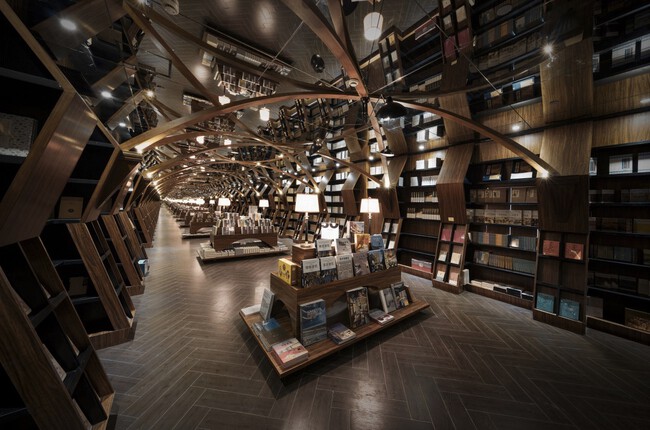 HangzhouZhongshuge
In the HangzhouZhongshuge highlights the children's area, which is also a leisure area. We have a play area based on the books, but also with a carousel, roller coaster, hot air balloons and even a pirate ship.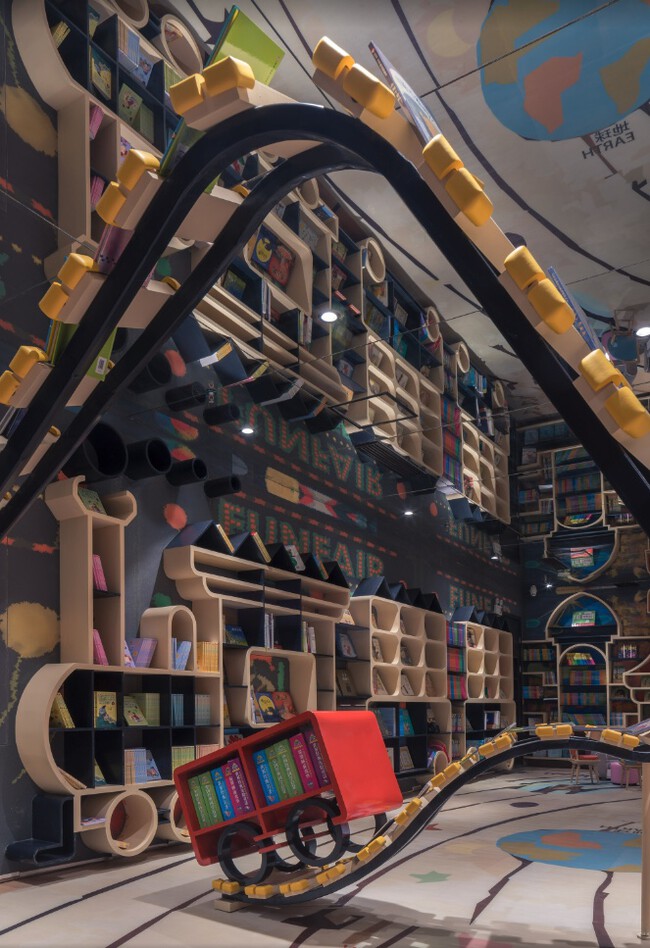 YangzhouZhongshuge
This fantastic Chinese bookstore seems transport us to another dimension with his tunnel book. With an aesthetic close to that of Guiyang, the YangzhouZhongshuge take advantage of the interplay of mirrors and curved shelves for an arch-shaped visual effect. The result is a fascinating tunnel of knowledge where you can walk.
Designed by the same Shanghai XL-Muse studio and built in 2016, they explain that the zig-zag design is inspired by the Yangtze River, which flows near this beautiful bookstore.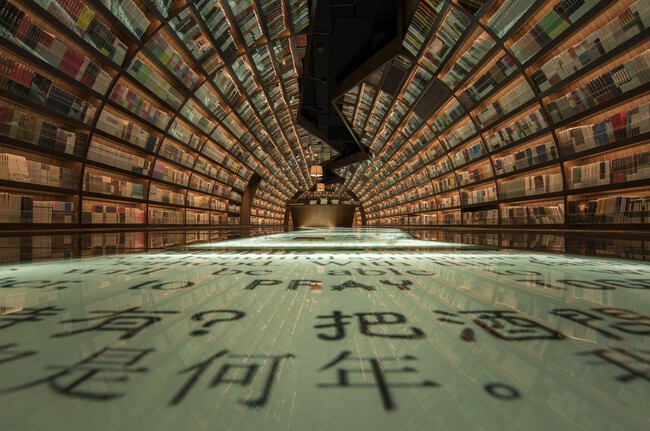 Pictures | Archello X+Living